Experience the Open Road with the Toyota Tundra
Trucks are some of the most impressive and powerful driving options on the road. Not only can they handle all types of driving needs -- from routine jaunts, to long road trips, to work needs. That is why all types of drivers nationwide have invested in vehicles like the Toyota Tundra. With this truck, you can enjoy a myriad of benefits, cutting-edge features, and advanced performance capabilities.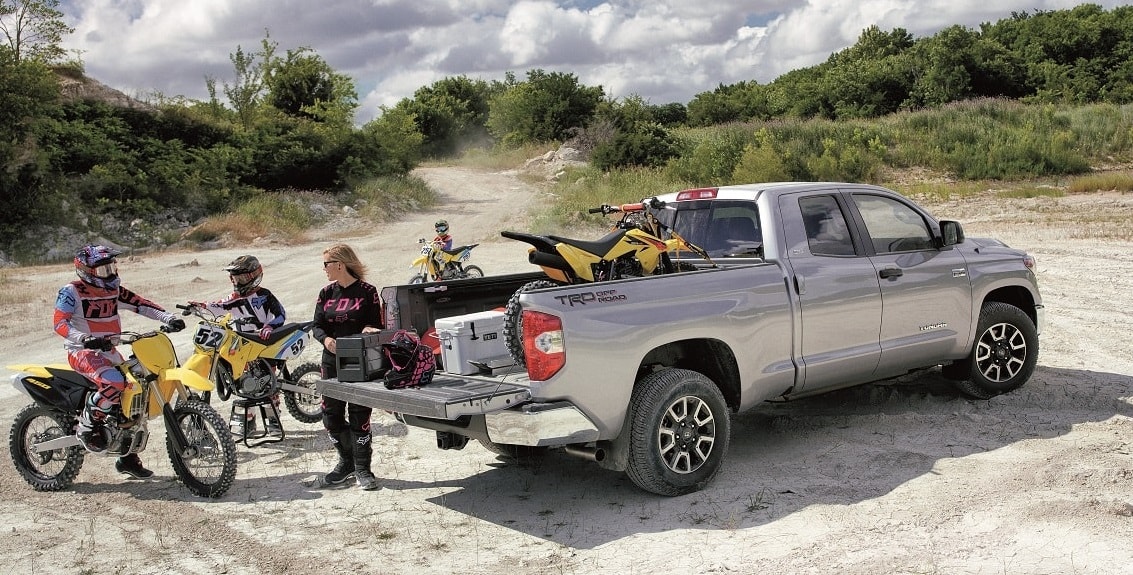 Aggressively Confident Design; Reliable Abilities On the Road
The Toyota Tundra is a confident vehicle in every sense of the word. Its front end is a gorgeous display of aggressive exterior design, with a chiseled front grille, and precisely sculpted headlights. Further, it has an aerodynamic frame (which helps enhance your efficiency on the road) and a number of cosmetic accents that further exude the vehicle's confidence and power.
The interior design of this truck is an interesting combination of refined comfort -- including the seating design, the amount of cargo and passenger space, and the professional aesthetic -- and rugged design. Furthermore, when you are behind the wheel of the Toyota Tundra, you will have easy access to various driving features. Additionally, the handling in this truck is very precise, which helps add to your confidence on the road.
However, you will truly fall in love with this truck once you get to experience its capabilities on the road. Not only will you get the strength and power you expect -- with high levels of horsepower and torque -- you will also be able to tow large loads, and you will be able to take advantage of this vehicle's efficiency. This blend of power, efficiency, and durability helps ensure you get tough jobs done.
Cutting-Edge Features Round This Truck Out
The Toyota Tundra also has a variety of features that can help augment your experience on the road. This includes both safety technology, and entertainment features. The former ensures that you are always aware of your surroundings -- especially your blind spots, and behind you -- and the latter ensures that you have a good time whenever you are behind the wheel. Cool features, like the advanced climate control features, a spacious center console, and an integrated navigation system all help you enjoy your time on the road that much more.
Why Should I Consider Buying the Toyota Tundra?
Perhaps the coolest thing about this truck is how versatile it is in a number of capacities. Not only does it provide versatile performance on the road, it also can make any type of driver happy. This is because it has something to offer everyone, no matter if you need a vehicle that can handle tough working conditions, or a means of transportation that is durable on the road. No matter if you are not usually into trucks, or if you have never driven a truck before, you may be surprised by this driving option.
Want to See the Toyota Tundra In Person?
If you would like to learn more about this amazing truck, or if you have any questions pertaining to the above information, please visit us at DCH Brunswick Toyota, located in North Brunswick, NJ. Our team is here to assist you with all of your driving needs, and to help you pick a vehicle that best suits your needs on the road, and fits your budget.
Schedule Your Test Drive
* Indicates a required field
Hours
Monday

9:00AM - 8:00PM

Tuesday

9:00AM - 8:00PM

Wednesday

9:00AM - 8:00PM

Thursday

9:00AM - 8:00PM

Friday

9:00AM - 8:00PM

Saturday

9:00AM - 7:00PM

Sunday

Closed